Gold Farming in Plants vs Zombies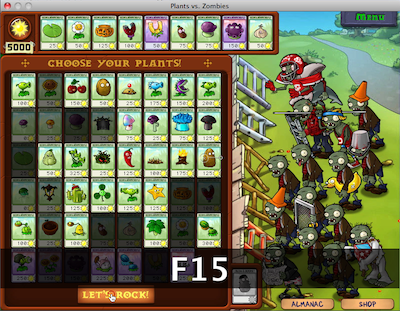 Plants vs Zombies is a great game with lots of depth and interest to it. But it can get a bit tedious racking up gold for your next purchase. Thus articles on gold farming suggest ways of getting gold, but setting up such a farm is rather tedious. Enter Keyboard Maestro!
This macro will setup a gold farm (as described in 460: Alternate Setups). The gold farm needs 9 slots, but should work with either 9 or 10 slots.
Start Plants vs Zombies, start the Last Stand game, and select Plant from the Keyboard Maestro Status Menu or press F15 to run this macro. Keep your hands off the mouse and it will select the 9 or 10 plants and then start the game and plant the gold farm. Start the zombies coming and watch the gold roll in (if only life was this easy!). Remember to replace the garlics after every level or two.
It is left as an exercise for the reader to automate the process so the level is restarted each time and the macro rerun so you can leave it gold farming all night.
Watch a video of the macro in action.
Updated Wednesday, August 18, 2010 at 3:28 AM. Permalink. 2 Comments.