Keyboard Maestro 4 Teaser - Clipboard Switcher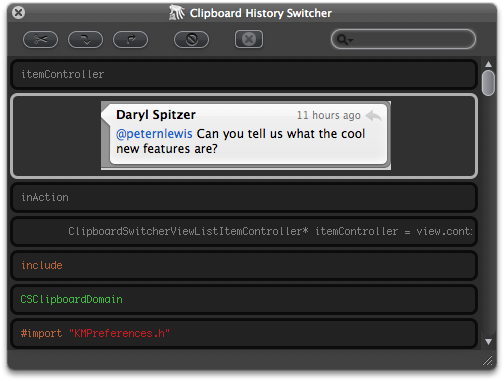 Keyboard Maestro 4 is well in to development, and anyone who purchases Keyboard Maestro 3 after May 1 will receive a free upgrade.
Normally I don't say anything about future versions until they are released, but in an effort to generate a bit of buzz I figured I would show off some of the stuff as it is (more or less) completed.
My aim for version 4 is to be Cocoa buzzword compliant, which means lots of nice swishy user interface features. The engine is essentially complete (in fact it is only a couple API calls off being 64-bit ready, although whether I will ship a 64-bit version remains to be decided).
The engine now has HUD style clipboard history (pictured) and named clipboard switchers, including a search field with lovely animations as you filter clipboard or add or remove clipboard items, as well as image and styled text displays.
Currently I hope to have version 4 out in Q3, but that will depend somewhat on what does and doesn't make the cut, although I will probably err on the sooner side and ship further features in version 4.1, 4.2 etc as I did for version 3.1 through 3.5.
But there is still plenty more to do, so its back to work for me.
Posted Sunday, May 3, 2009. Permalink. 1 Comments.