Interarchy Quicksilver Plugin
The Interarchy plug-in for Quicksilver is ready to go. It should appear in Quicksilver's list of plug-ins soon. But if you can't wait you can grab it here.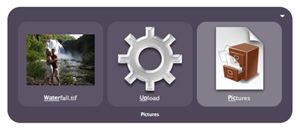 The Interarchy plug-in will give you access to your bookmarks and Net Disks from Quicksilver. It will allow you to open bookmarks; upload files and folders to bookmarks; and mount, unmount, and sync Net Disks.
Updated Monday, July 3, 2006 at 7:46 AM. Permalink. 4 Comments.