The Case Against Making Things Easy
A big part of our job as developers is to make complex tasks easy. Each new version should be taking existing things and making them easier. But can this be taken too far?
We released Interarchy 8 a couple months ago. In the last couple weeks, I've received several support emails complaining that Interarchy automatically updated itself without warning. Now this is somewhat interesting because Interarchy doesn't auto-update, it never has.
User perceptions are never invalid, as such. They may be inaccurate (as in this case), but perceptions, like feelings, are never invalid. So what's going on?
Interarchy (like many modern programs) alerts you to the existence of a new version and offers to download it. The user can choose to download it or not. But this hasn't changed since any previous release, so it alone is not the cause of this new "auto-update" confusion.
After the download, the disk image opens up in the Finder. The user must manually drag the Interarchy icon to the Applications folder. The Finder will dutifully warn about the fact that the old version will be overwritten. But none of this has changed since the last version either.
So what has changed? The users have clearly forgotten the initial dialog in Interarchy as well as the dialog in the Finder. No real surprise there, we all know no one reads dialogs.
But one thing has changed. Like any field, there are always new "best practices" coming along, and one of the recent ones involves the layout of the disk image. Modern disk images include a symlink to the /Applications folder (an idea attributed in TidBITS Talk to James Thomson's PCalc).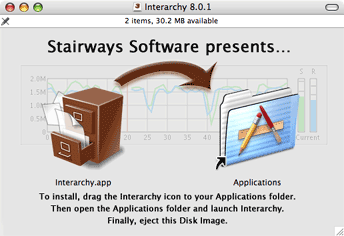 This allows you to simply drag the application icon in to the Applications symlink, both in the one disk image window, significantly simplifying the installation process. Previously, you would have to open another window, move to the Applications folder, and then drag from the original disk image to the new window, or alternatively turn on the toolbar and drag to the Applications entry on the side.
Now I don't have proof this is the cause of the confusion, but it does fit. The act of installing the update now consists of OKing two dialogs and a single drag. It is easy to see how a user could forget doing this when eventually prompted to register some weeks later.
The interesting thing is that, if you assume the user will not read the dialog boxes (a good assumption), the only solution to avoid the confusion would be to add more steps to the install process (such as sending the user to a web page instead of downloading the application directly).
Should we make a change? Probably not, but it is curious that making things easier has actually caused a perception problem for at least some of our users.
Posted Tuesday, May 23, 2006. Permalink. 3 Comments.