Matthew and Natalie's Wedding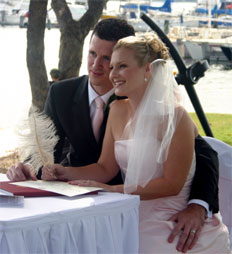 On Saturday, May 13, Matthew married the lovely Natalie at the Royal Perth Yacht Club on the Swan river.
Many of Matthew's friends and family had flown in for the occasion and the ceremony and reception were very moving with several speeches bringing a tear to many eyes (ok, mine included!).
I've been privileged to know Matthew for five years, so I'm certain Natalie is a very lucky girl, and while I've known Natalie for a shorter term I'm already certain that Matthew is also very lucky! They make a great couple and I have no doubt they will have a wonderful life together.
Matthew and Natalie are on their honeymoon for the next couple weeks, but feel free to leave any well wishing comments and they will read them when they return.
We wish them much joy and happiness for the years ahead!
Posted Monday, May 15, 2006. Permalink. 3 Comments.