How Do I Make An Amazon S3 Hosted Website Using Interarchy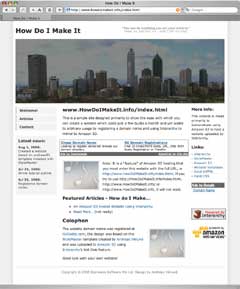 Amazon S3 is a great new service from Amazon offering very cheap, very reliable, very scalable Internet storage. It is not an end-user facility, but a back-end service that developers can build on. However, Interarchy supports direct access to it, and you can make the files on there publicly readable, and taken together, that means you can have your website hosted there for next to nothing. Throw in a few Google ads, and your personal website could easily be revenue positive.
Rather than write a blog entry about how to do this, I figured I would just go ahead and make a simple website hosted by Amazon S3 showing how to make a simple website hosted by Amazon S3 using Interarchy. Very recursive.
The site is called How Do I Make It, and is set up to allow other tutorials to be added in later, but really the site's main purpose is to demonstrate hosting a website on Amazon S3, so you can read the article directly.
Posted Tuesday, August 1, 2006. Permalink. 4 Comments.