Bookle
To learn all about Bookle, read Take Control of Bookle, written by Adam Engst of TidBITS and Take Control Books.
You'd like to read EPUB-formatted books. iBooks is fine for the iPad and the iPhone, but what about the Mac? That's where Bookle comes in. It's an elegant Mac app that's designed to let you read your EPUBs on your large iMac screen, or wherever your MacBook Air accompanies you.
Double-click any DRM-free EPUB* and Bookle adds it to your library for instantaneous access. Once an EPUB is loaded, you move around by clicking the ever-present table of contents or by using all the standard keyboard, mouse, and trackpad navigation methods you're accustomed to from your years of Mac experience. That's all there is to it.
You'll enjoy user-configurable fonts, sizes, and background colors - all settable on a per-book basis. Bookle remembers where you left off reading in every book, and if you want to exercise or clean house while reading, you can have Bookle read aloud to you.
Bookle is available from the Mac App Store, where it costs only $9.99 and comes with free updates as we add features based on feedback in the Bookle UserVoice forum.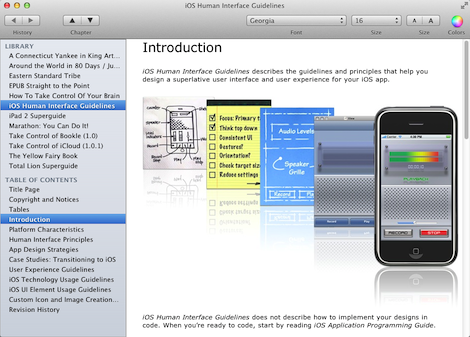 * Bookle cannot open DRM-shackled EPUBs purchased from Apple's iBookstore or from ebook resellers that use Adobe Digital Editions DRM. Take Control of Bookle, which is included within Bookle, contains a list of sites where you can download tens of thousands of DRM-free ebooks.